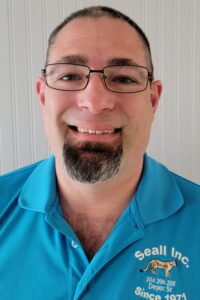 Emilio Maisonet
Emilio was born in New Haven, Connecticut and came to Vermont in 1988. Before coming to Seall in 2000 he was a truck driver for a milk company. Outside of work he enjoys hunting and fishing. As a supervisor at the 204 Depot Program he stays organized by prioritizing what needs to get done and work as a team to complete all tasks.
He keeps a positive attitude on those really tough days  by touching base with management to bounce ideas off to help with the youth because if they are doing well we are all doing well.
Some of the rewarding features of his current position are having a great support team to work with and communicate with the same goals set.
His advice to a new hire is to be patient, consistency is key, remember this is these kids home and you get to leave and go home daily.