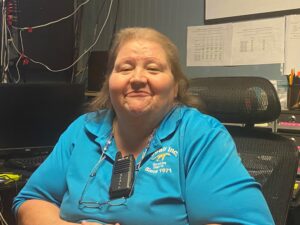 Tracie Benjamin
Tracie was born in Cambridge, New York and came to Vermont in 1982.
Before coming to Seall she worked as a LPN at a nursing home and then at the opposite end of the spectrum as a preschool teacher. It was the same type of population she works with now only younger.
She did volunteer work at Willowbrook and then accepted a position helping people secure subsidized housing.  After doing some respite work with a few youth she came to Seall when they moved away.
Her hobbies outside of work consist of reading, road trips, cooking, baking and relaxing with her cat, "Luna".
In order to keep a positive attitude on those really tough days she talks to positive people who remind me why I do what I do, I find humor in everything and read "Alexander and the Terrible, No Good Very Bad Day and then end with "Love You Forever".
Tracie says the most rewarding piece of her position is knowing the kids feel safe enough to sleep through the night and that my presence makes a difference.
We asked Tracie what advice she would give to a Seall new hire.
She says always remember it's about kids. You are a member of a team, work together. Don't try to make yourself better by making someone else look bad. A big shot is just a little shot away from home! If someone is having a hard time don't make it harder. We're a family. This is, or can be the best job you will ever have. Everyone wants you to succeed and they do everything they can to help that happen. You will never, in my opinion, have better bosses. Respect each other. When it comes to the kids remember they're not bad kids they just have bad behaviors sometimes and need some stability. If you respect them they will respect you. Develop a sense of humor because sometimes if you don't laugh at things they will make you cry.